Fish of the Year 2014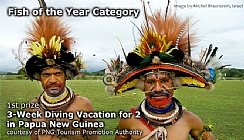 Guidelines
The 3 images submitted to this category should feature a series that best and most creatively introduces a modeling book of the fish which was chosen by the competition's professional committee as the "Fish of the Year".

At the Eilat Red sea opening ceremony, which will take place on Monday, September 8th, 2014, a marine biologist will present the fish chosen for this category. The fish will be introduced along corresponding images and basic information, such as its habits and preferred locations.

During the 3 days of the Eilat Red Sea 2014 shoot-out competition, the fish announced as the "Fish of the Year" will serve as a case study for all photographers participating in the "Fish of the Year" category. Images submitted to this category should be creative, original and diverse, introducing the daily routine of the fish in the context of the reef. Each image submitted within the series will be evaluated as a standalone image as well.

Prizes
1st prize-
3-week diving safari for two in Papua New Guinea, courtesy of
Walindi
and
Loloata
resorts and the
M.V. FeBrina
2nd prize-
Adobe Creative Cloud for Teams Complete, courtesy of
Adobe
3rd prize- Sepa semi-dry 5mm wetsuit, made of Megastretch and Termospan, couresty of Sepa

2012 Fish of the Year Category Winner - David Barrio from Spain